2022 – New Shed thanks to Magic Little Grants and Volunteers
2022 – Herb 'Tea Bed' with thanks to Food for Life and Volunteers
The Community Plot goes into the community
July 2020 – Community Plot at the Barnet African-Carribean Association
Growing Connections 2020
Community Plot facilitators consulted on the Guide with funding from the Centre for Ageing Better. Our Buddy Garden for this project was the Older Women's CoHousing in Barnet, where our facilitator Les advised on making their garden more accessible using his specifications for raised beds like those on the Community Plot, where people can stand up to garden. The full version of the guide is available from Capital Growth
Photos of the Community Plot in CommUnity Barnet's 2020 Calendar

Congratulations to Desy for winning second prize for this photo which is the image for April 2020
Barnet Mencap Community Plot Group Volunteering Opportunity in Barnet First (Barnet Council magazine) :
Community Plot in Barnet First Volunteering Ops
Community growers gather to share ideas on engaging volunteers
"Build it and they will come" expressed Les Moore (Facilitator of the Community Plot at Whetstone Stray Allotments), who spoke passionately at Capital Growth's Grow Well Feel Well event about the conception of their growing project as well as an age-friendly approach to volunteering.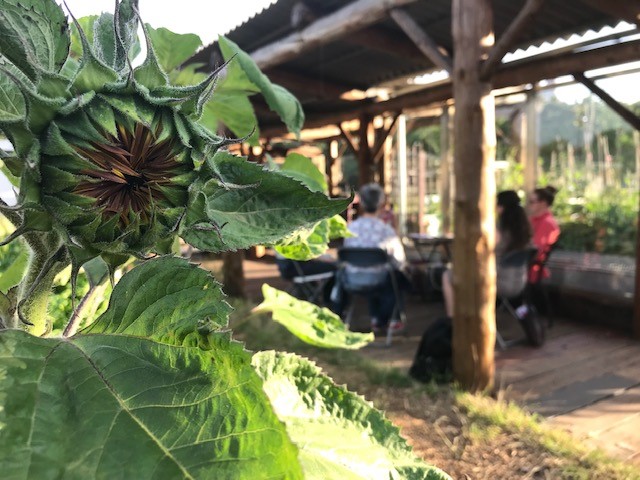 Over 45 people joined the packed event for an energising summers evening in the beautiful surrounds of Spitalfields City Farm.
The event was part of the new Growing Connections project, which is capturing and sharing good practice in the Capital Growth network on age-friendly and inclusive volunteering. This includes working with flagship and buddy gardens, and creating a small community of practice where people can share experiences. The project is funded by the Department of Culture, Media and Sports as part of a project run by the Centre for Ageing Better. Read more here.
A huge thanks to all our participants and contributors.11/07/2019
Capital Growth
---
New Ageing Better funding announced by Minister at Capital Growth garden
A new Capital Growth project has been announced as one of five funded by Department of Culture Media and Sport (DCMS) and the Centre for Ageing Better. The project will find and share better ways of supporting and recruiting older volunteers at community gardens (including the Community Plot at Whetstone Stray Allotments)…
… The fund was launched following a review of community contributions in later life, conducted by the Centre for Ageing Better in partnership with the Office for Civil Society in DCMS. It found many older people face barriers to taking part or staying involved, which can get worse if their circumstances change, particularly for those who are less financially secure, have poorer health or come from certain BAME backgrounds.
In its review, the Centre for Ageing Better called on charities, voluntary organisations and the public sector to do more to support volunteering in later life, especially in groups less likely to volunteer. Stronger action is needed to enable people to take part in activities that matter to them and stay involved as they get older or undergo major events like ill health, bereavement or caring for loved ones.
The review identified six principles of age-friendly and inclusive volunteering which the projects will test. Volunteering should be flexible and responsive, enabled and supported, sociable and connected, valued and appreciated, meaningful and purposeful, and make good use of peoples' strengths.
21/03/2019
Jellied Eel (September 2018) – Community Plot at Whetstone Stray Allotments listed as one of London's best community gardens